One Day Spring Workshops! Registration opens February 25th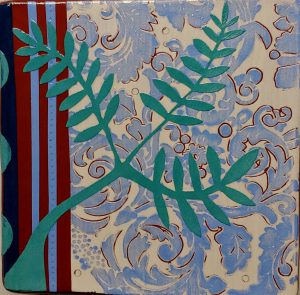 Layering Surfaces with Rebecca May Verrill.  April 27th 10-3
$65 Handle Factory Members/$85 non-members includes materials
No previous experience with clay required!
Rebecca will guide students through her decorating process on leatherhard  tiles to create fun, dynamic layered surfaces. The primary focus will be in creating positive and negative paper stencils for use in masking, water etching and basic image transfer. Using colored slips and underglazes, Rebecca will demonstrate many of the techniques she uses in her own work to create crisp lines and high contrast, fun, layered contemporary surfaces.  
Rebecca is a native Mainer and has been teaching art for 20 years throughout the country. She received her MFA in Ceramics from SUNY New Paltz in 2013 with a special focus on native clays. She shows her work nationally through shows and galleries and currently maintains a private studio in Portland.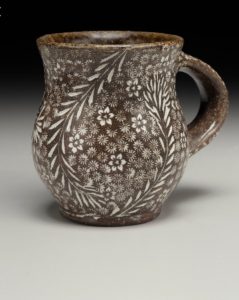 Demonstration Workshop with Michael Kline .  April 28th 10-4 Open to Handle Factory Members and Students and AVPG members only
$60 Current Handle Factory Members and students
Michael Kline makes utilitarian ceramics with botanical-themed painted and stamped surfaces. For most of his career, Kline has worked with wood-fired salt-glazed stoneware, usually with organic patterns painted on a thick white slip surface, glass"runs," and an alkaline ash glaze. In 2015 he visited the Freer-Sackler Wing of the Smithsonian and was struck by 15th C. examples of the Korean sangam technique. Since then, he has focused on applying this technique to his own work and aesthetic, creating floral stamps and inlaying the impressions with white slip on a dark stoneware base.
Kline  graduated with a BFA in Ceramics in 1986. He worked for a number of years in Western MA and in 1998,  he moved to Penland as a Resident Artist. Following his residency, he set up a studio in nearby Bakersville, where he continues to work today. He has taught numerous workshops across the country, and in 2000 was a presenter at the Utilitarian Clay Conference at Arrowmont School of Crafts (Gatlinburg, TN).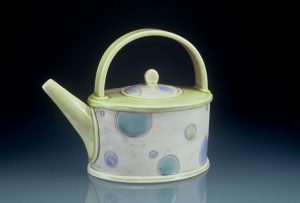 Time for Tea!
A one day teapot build-a-long with Annette Gates May 9th 10-4
$65 Handle Factory Members/ $85 non-members includes materials
Open to All Levels!
Come make a teapot by hand in this one day workshop. From start to finish, instructor Annette Gates will guide your every step in hand building a sophisticated teapot  plus a mug to go along with it.
Annette Gates is a studio artist and part time instructor living in Amherst MA. She grew up in the foothills of the Rocky Mountains where she developed a deep appreciation of nature. Creating both functional pottery and sculpture, Annette's work unites delicacy with strength. Her forms are inspired by structures found in nature and are defined by tactile surface treatments.
With a BFA from the University of Colorado and an MFA from the University of Georgia, Annette has been teaching university classes and all-ages workshops for 20 years. She currently teaches public school part-time and instructs regularly with the University of Georgia's Studies Abroad program in Italy. She participates in artist residency programs, most notably the International Ceramic Center in Denmark. Her work has been reviewed in several international publications including Ceramics: Art and Perception. Annette is also an active member of the Asparagus Valley Potter's Guild.